To celebrate National Adoption Day, and in a spirit of giving back to our community, Krista Photography is excited to announce FREE family portraits for adoptive families on Saturday, November 23rd!  We believe that adopting a child into your life is one of the most generous things you can do, so we want to bless and encourage these special families by giving them a photograph to celebrate their "Forever Family!"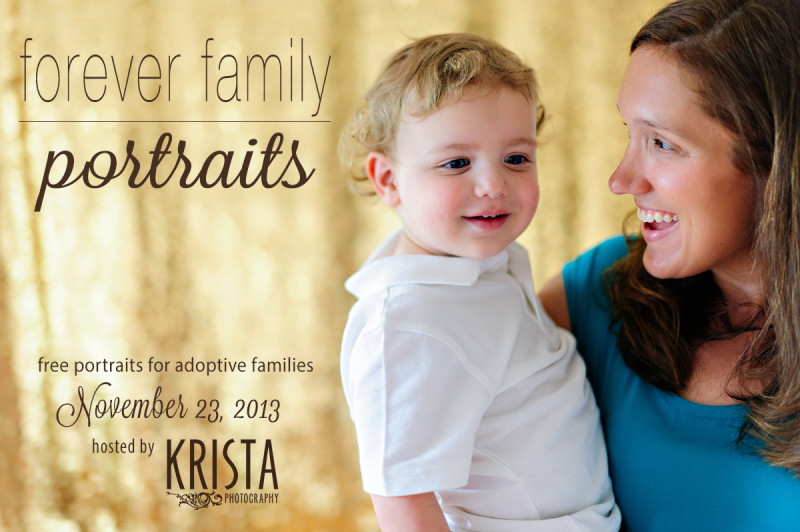 Who may participate:       Any family that has adopted or is in the process of adopting one or more children.
 What do you get:            A brief portrait session to capture a nice portrait of your Forever Family, with one of our professional photographers.  One or more of the best images from your portrait session will be edited and uploaded to our proofing site,, where you will receive a $25 credit towards the purchase of prints or digital downloads of your photos. Additional prints may be purchased a la carte, but are not necessary.  [e.g. $10.99/5x7, $21.99/8x10, and $50.00/digital download with rights released] 
 When:                             Saturday, November 23, 2013 from 9:00am – 5:00pm – just after National Adoption Day!
 Where:                            GENESIS - 35 Olympia Ave, Woburn, MA 01801 (Right off of 95 at the Washington Street exit). 
 How:                               Families must register via Eventbrite to reserve your spot.  Please sign-up by purchasing a free ticket for one of the 30-minute time slots available - ONE TICKET PER FAMILY. We ask that you arrive at the beginning of your scheduled time slot.  Families will be photographed on a first come, first serve basis and we will do our best to take families within the 30 minute window for which they have registered.  If you are unable to attend, please give at least 48 hours advance notice so families on the waiting list may attend.
 Why:                               We truly believe that adoption is one of the most generous acts of humanity, and we want to bless your new family with the gift of capturing your Forever Family in a photo that will last for generations! We are so excited to be able to offer this special event and cannot wait to meet you!
Krista Photography is a Wedding, Portrait & Humanitarian Photography studio based in Woburn, MA, owned by principal photographer, Krista Guenin.  Krista has been shooting for over eleven years, and has recently expanded her team to include Photographer CoCo Boardman, and Assistant Amy Panichella.  As a team, our mission is to capture the important moments and relationships in people's lives, and give them photographs that will spark their imaginations and memories for a lifetime.  To learn more, visit www.kristaphoto.com.